What is the Norwich Ju Jitsu Club?
The Norwich Ju Jitsu Club has been teaching traditional Ju Jitsu for over 20 years in the Norwich area.
Our relaxed friendly atmosphere focuses on teaching practical self defence to adults equipping them with real no nonsense techniques which can be deployed against any attacker regardless of their size or strength.
Due to our long standing experience we cater for beginners and experienced martial artists from all disciplines.
Where do we train
The Norwich Ju Jitsu Club trains at the Harford Community Centre, Hall Road, Norwich.
www.harfordcommunitycentre.org.uk
A modern, well lit and air conditioned building with free parking and brand new mats.
What techniques do we train?
Click this link to see a short video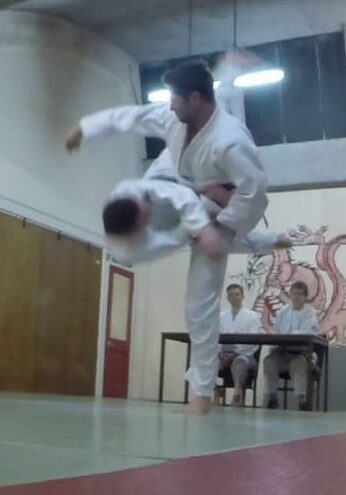 Ju Jitsu is a japanese martial art of ancient origin. "Ju" can be translated to mean "gentle, soft, supple, flexible, pliable, or yielding."Jistu" or "Jutsu" can be translated to mean "art" or "technique" and means manipulating the opponent's force or strength against himself rather than perhaps opposing them directly. Ju Jitsu was developed to combat the Samaurai as a method for defeating an armed and armored opponent where they possessed either no weapon, or only a short weapon. Because striking against an armored opponent proved ineffective, practitioners learned that the most efficient methods for defeating an enemy took the form of hold downs, joint locks, and throws.
Modern Ju Jitsu includes strikes, blocks, pressure points, locks, strangles, hold downs, knife (using wooden knives) defences, throws (in fact it covers just about everything!)
We normally work on warming up, fitness training (dont worry we work to your level and slowly work upwards!), learning practical self defence techniques through an approved syllabus of learning, practice and warm down. Always we have a bit of fun as well as giving each student something to work towards.  Ju Jitsu is extremly varied and patience, training and committment is key to your success.
We train every Tuesday evening from 7.30pm until 9.00pm with an extra 30 minute session for senior grades at the end of the class.
Interested?......Of course you are!
And first session is always free so what are you waiting for, come and learn this wonderful martial art and feel more confident whilst improving your fitness and reduce your stress levels!
Just click on the link to contact or come in and see us.